Parent Well for a New World:
Your C.E.O.
(Creative Energy Orchestrator)

Guide by Gloria DeGaetano

Available Summer 2017

So, how do you create what you want for you and your family in our increasingly stressful, screen world? For many moms and dads today, conflict and anxiety lurk around every parenting corner. "My kids text from morning till night, we don't talk anymore." "If I don't buy the latest video game, my son throws a fit." "If the school demands my five year-old use an I-pad, how do I control screen use at home?" "Help, my children used to love to play outside, now all they do is play with their electronics." And the list goes on.

My new book is not about getting rid of these problems. Rather it's about creating what you want. (Then the problems take care of themselves. Honestly.) Creating is rewarding, energizing, and natural. I help you decide what's most important to you, by exploring several basic principles. Once you have clarity about the principles, then we take a look at potential parenting practices. You decide which practices to put into motion as the C.E.O. of your family. And voila! You are on to creating, not only what you want for yourself and your children—you are also creating a new world—for all of us. And it's simpler to do than you think.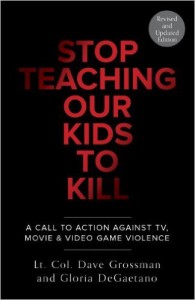 Stop Teaching Our Kids to Kill
2014 Harmony Books
At least 3 million U.S. kids are addicted to video games. Find out what to do about this growing epidemic. Also discover the thousands of research studies (coherently summarized for you) and their implications for your family. Learn the impact of media violence on your child's self-identity and discover how to shift the negative trajectory—at any age.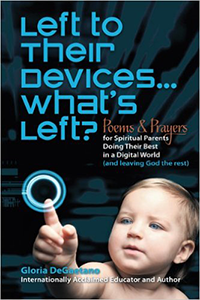 Left to Their Devices, What's Left?
2012 WestBow Press
Use this book as a personal meditation. Share it with your book club or PTA. Show it to a relative whose child struggles with screen addiction. Give it to new parents to encourage wise future decisions.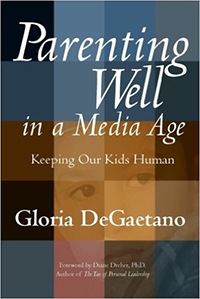 Parenting Well in a Media Age: Keeping Our Kids Human
2004 Personhood Press
Learn the six major parenting challenges in our media/digital age, along with The Vital Five™–your ticket to parenting success and your child's admission into healthy well-being. With practical parenting strategies for real-world parents, I designed this book to provide brain-based ideas, realistically do-able amid family daily life. I wrote this book to bring more life to your life!
"What Dr. Spock provided to moms and dads in the 1950s, Gloria DeGaetano offers to parents of 21st century kids—savvy insights about child development coupled with practical tips for helping children learn to navigate the world in which they are growing up."
Elizabeth Thoman, Founder, Center for Media Literacy
"Screen Smarts is an excellent 'survival kit' for parents and teachers… If media literacy isn't taught, we're going down the tubes in short order. Screen Smarts gives us the reasons and the tools to cope with these powerful influences in children's lives and prevent such a slide."
Jim Trelease, Author, The Read-Aloud Handbook
"Left to Their Devices, What's Left? is thought-provoking and poignant. Like all of Gloria's books on parenting, it is marked by the wisdom needed to parent well today. More than anyone I know, Gloria's writings are particularly relevant to the new world of technology that invades our homes."
Joseph Lynch, author of Reaching Out: How to Communicate the Gospel of Hope and Love to 21st Century Catholics.
"Parenting Well in a Media Age provides positive alternatives to the compulsive consumerism that litters our lives."
Diane Dreher, Ph.D., Professor, Santa Clara University, author of The Tao of Personal Leadership
"In Parenting Well in a Media Age, Gloria DeGaetano confronts the most important questions about the long-term impact of media immersion and provides common sense answers that concerned parents will appreciate. She has made an important contribution to a crucial discussion that too many families try to avoid."
Michael Medved, author, Hollywood vs. America
"Whether you are a new parent, an old parent or not a parent at all, if you are concerned about incivility, consumerism, and violence in modern society you need to read Parenting Well in a Media Age. If you are not concerned, you really need to read this book."
Craig Anderson, Ph.D., Researcher and Professor Emeritus, Department of Psychology, Iowa State University
"Gloria's books and manuals are always so well-researched and supported. They provide an untapped area for serious consideration for our children and their future."
Alberta Thyfault, Ph.D., Program Director, Central Washington University
"All in all, Gloria has written the best media literacy book for parents I have ever seen. The examples will help parents manage their families' use of media in ways which will enrich the lives of children and grown-ups alike."
Renee Hobbs, Ph.D., Professor of Communications, Babson College
"Stop Teaching Our Kids to Kill reminds us…all of us are vulnerable to the dreadful impact of the lessons of media violence."
Dr. Sylvia Rimm, author, See Jane Win
"Stop Teaching Our Kids to Kill in the most powerful, convincing–and horrifying–book I have read in a long time. The authors have done a splendid job of synthesizing a compendium of red-hot research into a useful action plan. A society that continues to perpetuate this sort of entertainment abuse on kids deserves exactly what it gets–and it's not a pretty picture."
Dr. Jane Healy, author Endangered Minds and Failure to Connect